Cool in summer - warm in winter
We have all experienced over the summer the air inside a window heated by the sun, for example a cab on a forest machine even up to 50 degrees and then reduced physical performance significantly.

With sunscreen Solar-Screen reduced radiant heat from the sun by up to 75%. The indoor climate is much more comfortable without the warmth of the sun.
With the blinds drained on cold days, the heat loss is reduced as much as if you mounted an extra glass.
Reduces reflections and glare
At some point we have all experienced annoying reflections / glare on the computer screen or television. After a short while, you know how hard it is for the eyes and how much you have to concentrate to be able to see the screen / television.
Our window films reduces reflections / glare screens and removes up to 99% of UV strålningnen. You get a much more comfortable indoor climate and your eyes and protected like you are wearing sunglasses.
Tailored to your measurements
We manufacture blinds according to your measures to ensure a perfect fit for your windows. We can also taper cut and round cut curtains.

We work primarily with sun shade film, but can also provide other types of film or fabric. If you have specific requests don´t hesitate to contact us.
There are 2 different options on the blinds
CABIN-SCREEN is a spring-returned roller blind which is mainly adapted for mobile working environments, for example machine cabins and cabs, boats etc. The roller-blind is mounted with two brackets, which makes it flexible and easy to install.
The cassette is black anodised and made of durible aluminium which protects the film from dirt and damages. The recommended maximum width of this product is 150 cm.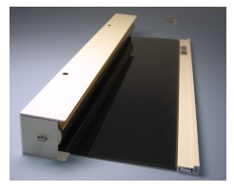 SOLAR-SCREEN is a cassette mounted roller blind with built-in stop function, mainly suited for buildings, but can also be used on ship bridges and in machine cabines where windows are wider than the CABIN-SCREEN maximum recommended width. The recommended maximum width of this product is 250 cm
The cassette is made of durable aluminium. The white colour and the sleek design makes it fit in well with window frames. The roller blind can be automised with a motor.
BLACK/SILVER - 100% BLACKOUT